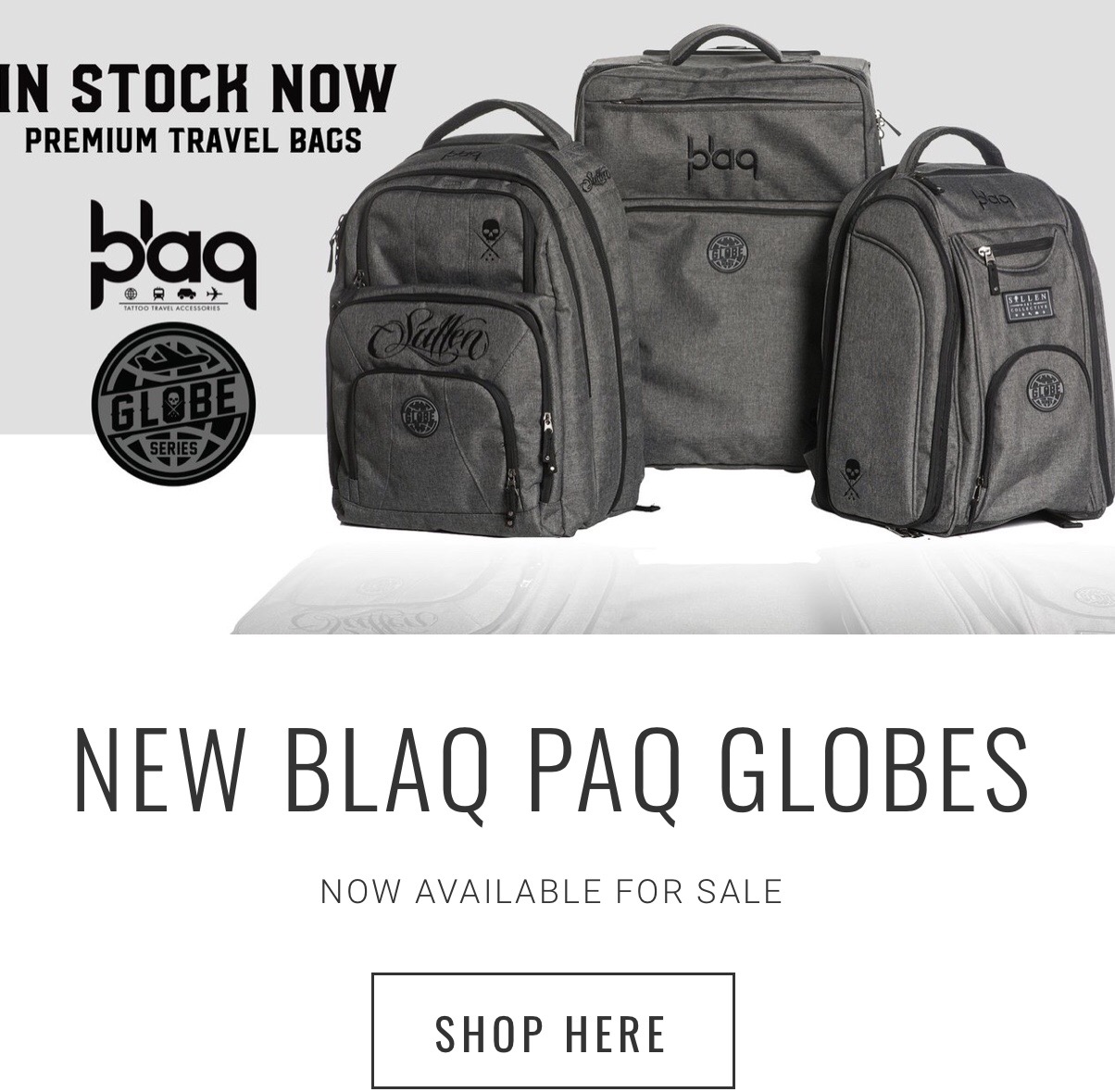 Travel has gone hand in hand with a tattoo artist's lifestyle for as long as tattooing spread its ink across the globe. Engrained in tradition, travel has become more than simply a source of income— it's a source of inspiration and an opportunity to infuse new techniques into your artwork. Travelling from city to country, from convention to tattoo shop, it's all a chance to spread your own notoriety and knowledge of global tattoo culture. If your journey as a travelling tattooer is only beginning, it's a good idea to reevaluate the tattoo supplies you'll need to make each trip much easier. We've compiled the top five tools you need as a travelling tattoo artist to ensure a smooth passage!
Pack Lighter & Smarter
If you're on the go, you need to think lighter and smarter. It doesn't matter if you're hopping on planes or subways, travelling can take a heavy toll on your body especially if you're packing some serious power and machinery. Solution? Think mini.
Our first recommendation is a smaller machine. Not only does a mini tattoo machine double as a reliable back up back in your own shop or workspace but also it makes travelling a snap! At Element Tattoo Supply, we have a few miniature tattooing machines for you to choose from like the Apex Nano Rotary Tattoo Machine weighing a mere 82 grams. If you're a tried and true script artist, our very own Element Tattoo Mini Size Liner is perfect for you. It's also available as a mini shader.
With a smaller machine, you don't have carry as much power. Lucky for you, you can pack a reliable and straight-to-the-point mini power supply the size of a quarter— seriously. Element's NEW Black Mini Power Supply is no taller than a quarter upright!
Think Disposable
Travelling doesn't have to get grimy. With our disposable tattoo supplies, you can ensure you maintain a high level of sanitation expected from a tattoo artist. With our multi-pack options, you also don't have to break the bank in order to get your hands on sanitized and individually packed professional tattoo equipment. Not only will you avoid any cross contamination possibilities but you also won't have to lug any cleaning supplies meant to scrub your gear thoroughly.
Our assortment of disposable cartridge grips are available in a variety of grip sizes from 1.2 to 5 inches. Designed from a variety of extra comfortable materials, choose a grip appropriate for your needle. This type of single-use set up means you'll bring less stuff with you and maintain cleaner equipment all in one go!
If you're on board with disposable grips, then purchasing assorted disposable tubes is a no brainer. You'll find sterile disposable tattoo tubes in various designs that suit your particular tattooing styles and overall budget.
For the Convention Regular
Finally, this last tool is the ultimate piece of equipment for those of you well versed or just starting the convention circuit. Conventions tend to be filled to the brim with people and their equipment. This doesn't leave much room for the individual tattooer.
You can make up for the lack of space with the Conartist Portable Travel Station. This 20-pound water-resistant table can easily fold into a metal case for hassle-free transportation. It also includes a built-in rinse cup holder, paper towel holder, power supply compartment,     and portable shelf for ink and machines.